Overview
This new Gettin' Families Fishin' Coalition is like a charter boat with a team of seasoned captains already at the wheel, revved up and ready to head out to catch a new generation of anglers. The only thing missing is having you on board and share the role you'd like to play.
Your coalition crew includes the Future Angler Foundation and the Emmy-winning broadcast television series and youth education network, Into the Outdoors with their seven online and digital channels. By joining this growing list of your fishing and R3 peers, we'll use the collective power of regional and national media networks to excite the country about the fun and adventure of family angling… while you also tell your story. Take a moment and see all the ways and places we told the story about Fishing YOUR National Forests.
Find our how you can join this growing coalition of partners:
U.S. Forest Service
Recreational Boating & Fishing Foundation
National Professional Anglers Association
Wisconsin Department of Natural Resources
Pennsylvania Fish & Boat Commission
Future Angler Foundation
Fishing's Future
Into the Outdoors Education Network
KidsFishng.US
Here's how it works. When FAF, Into the Outdoors, NPAA, USFS or any of the coalition partners contacts you, simply choose any one of these four (4) ways to join your peers in this national R3 "angling entertainment & education" initiative;
1). As a Show Content Partner you earn soft promotional and branding content in the television and online education programs. (Within FCC guidelines, such as the USFS and WIDNR who funded the pilot program.) In short, your fishing-stuff-org-and-story gets to be a key part of the content of the kids and family fishing adventure.
2). As an In-show Information Partner, you can earn 60 or 90 seconds of an exclusive show-n-tell segment designed to help kids and their families be safe and successful anglers… focused on your topic. We also offer more traditional 30-second messaging opportunities.
3). As a qualified Distribution Partner you help in the national distribution of the produced programs and earn the right to add your custom branding of the program. Everyone's welcome who has a distribution network… outdoor and youth television shows or networks, public television affiliates, state and federal agencies, R3 organizations, and even corporations.
4). As part of our promotional campaign, we drive online and program traffic using a variety of contests and R3 incentives using fishing "reward products or coupons". So we'll also be offering R3 Reward Partnerships in the program.
By now you're asking, "How can this program actually recruit new anglers and renew others?" Simply watch the trailer above to see how the content uses key elements of R3 studies to convert engaged viewers into anglers. If you'd like to see all four segments of a television show, go to the companion, KidsFishing.US website. But remember that the coalition is so much more than a "television show".  In fact, each half-hour of content is also converted and distributed with…
* One Emmy-quality broadcast television program for regional and national distribution – copyright free to all qualified Distribution Partners for broadcast, digital, and cable networks, PBS, DNRs, Federal agencies, organizations, corporations, you name it. Each show will be aired a minimum of six times over 2 years to millions of viewers.
* Two to four recruitment classroom videos with angling webpages on multiple websites along with classroom Family or Friends Angling Lesson Activities where students to get "hands-on" angling, distributed for a minimum of 5 to 7 years. In fact, take a moment to explore the Passport to Adventure – Fishing Your US Forests webpage, classroom video, educational content and companion classroom lessons to see how we promote your story in schools across the country. Click here to see how the companion classroom lesson creates pathways for hands-on angling.
* Family Fishing PSAs for national distribution, and branded fishing "shorts" for key partners… like you!
So now you see how the coalition uses three pillars that engage today's generation – television, online videos and peer learning classroom activities combined with key R3 strategies to create pathways for kids and their families to try fishing.
Now take a moment to discover your role in recruiting our next generation of anglers to achieve 60/60. Contact us for details on how you can join your growing list of peers below. Plus, dowload this PDF to discover all you earn when becoming a "Content Partner".
email Dan at Into the Outdoors, danb@discovermediaworks.com, or phone 608-512-9596
So join the growing list of your peers and partners in the Gettin' Families Fishin' Coalition.
---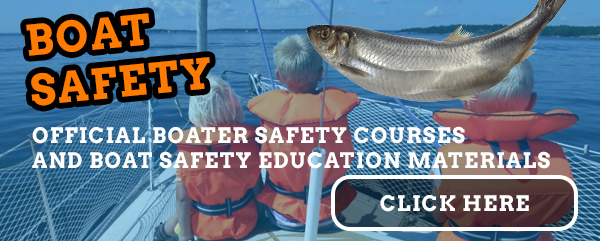 Official Boater Safety Courses
and Boat Safety Education Materials