This website makes it easy and FREE to find and get a topic that fits your educational needs with over 100 Topics in 5 Major Categories. And because everything here is Creative Commons, it means you can play, download (including all videos and lessons), print and use all educational materials freely without the hassle of registering your email or logging in each time. Here's your step-by-step guide on how it works.
Step 1 – Select a Science Category from either the home page or, from the "Science Categories" tab on the upper left of any page.
Step 2 – Scroll through the topics listed on each category page. As you scroll down the available topics, you'll notice a description of the educational content, and icons that show if the topic offers an educational video, and available lesson activities for; E = Elementary grades, MS = Middle School grades, and HS = High School grades. As you'll see, most topics offer both educational videos and lessons.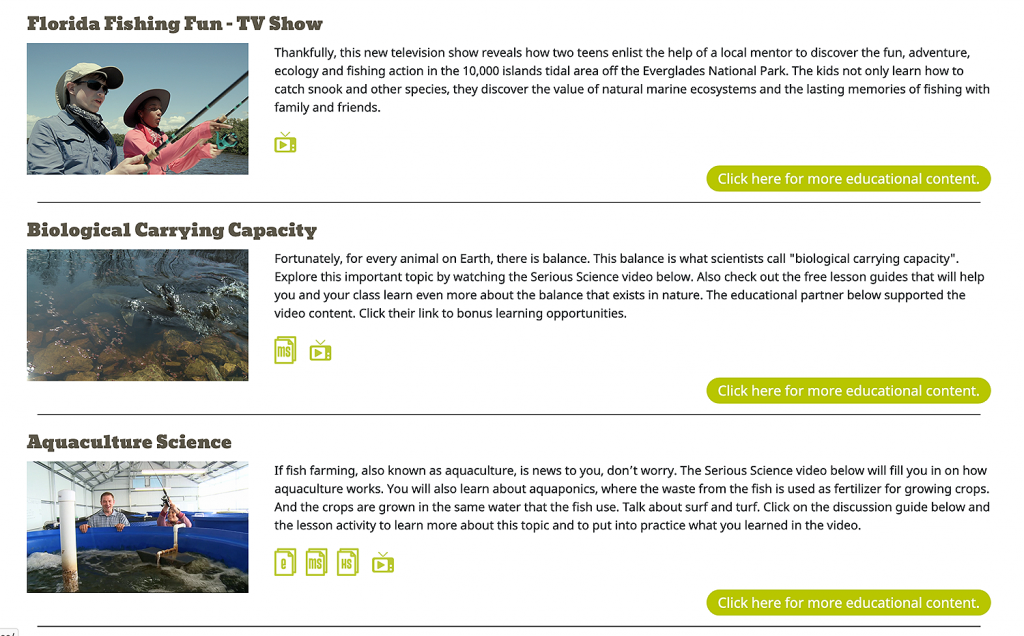 Step 3 – CLICK ON Videos & Lessons which will open to a full list of educational assets. Some Topic pages offer the chance to watch a full half-hour television show dedicated to understanding the topic. Other Topic learning pages present a specific topic with focused content and specific lesson materials designed to use in classrooms and in-home learning.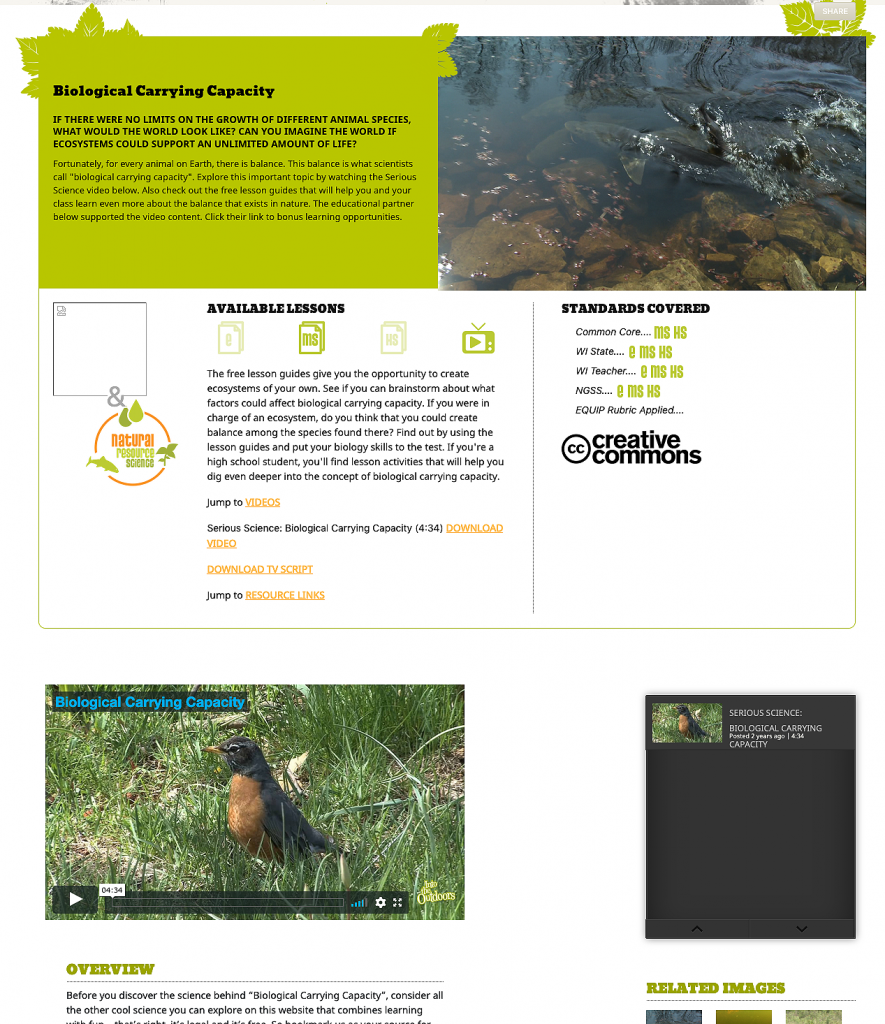 Step 4: Become familiar with the topic by reading the topic page first.
Title, Subtitle and Description
Available Lessons with the icons for E, MS or HS (under the lesson summary, you'll find links to download the HD videos if you wish)
Standards Covered – Most lessons cover quite a few Common Core and/or Next Generation Science Standards (a complete list of standards are within most lesson activity PDFs and listed after the lesson)
Overview –  This will set the stage for learning with basic information, important facts and critical questions about the topic.
LEARN MORE tab gives you advanced information about the topic that will help in either teaching or learning about the topic.
Did You Know? Offers interesting, curious or engaging facts about the topic
Helpful links to more materials or other websites
Step 5 –Before watching the video or using the lessons, it's best to Download the Lesson (PDF or hyperlink) under AVAILABLE LESSONS. Many are combinations of Discussion Guides and Lesson Activities. Reading and becoming familiar with the lesson will serve as your guide on when and how to use the related materials. For instance, many lessons have a Pre-Lesson Student Worksheet that helps student understand while watching the topic video.
Step 6 – Watch the topic video – Many lessons followup with a short discussion about the video and understanding the concepts.
Step 7 – Conduct the Lesson –  All the steps are there for peer-driven, critical thinking education. You'll also find helpful resource LINKS and educational partner links to help with teaching or student learning about the topic. We also offer a downloadable photo gallery on the webpage to help students in creating presentations that may be part of their lesson.
Now you're ready to teach or learn… or both. Because all our educational content is free and designed to empower our next generation to think critically about being responsible stewards of Planet Earth, by all means, please use and share them openly with your fellow educators. Heck, you can even ask your students to watch and discuss the content of select science videos for extra homework. And it's okay to tell them it's also fun. Learning should be…
See why educators use and value ITO
See why parents use and value ITO