The Getting Families Fishing Initiative
July 2, 2017
Full Episode
The Getting Families Fishing Initiative
Videos Lesson Plan
No Curriculum Video(s) Available
The Gettin' Families Fishin' Education Initiative was launched by the Future Angler Foundation in 2017 in partnership with the U.S. Forest Service, the Into the Outdoors Education Network and KidsFishing.US.  The success of the pilot expanded in 2018 as state DNRs and the RBFF also partnered in the program. In 2019 the U.S. Fish and Wildlife Service joined the program through a Sport Fish grant.
The end result so far is 6, half-hour national television programs and 19 classroom angling videos with hands-on lesson activities that are projected to impact over 13 MILLION kids and their families over the next 5 years! All these impressions are the result of an unprecedented youth-education outreach using a combination of media and educational outlets that connect with the ways kids are influenced by media that include:
Into the Outdoors Syndicated Broadcast Network – 33 Markets in 7 Midwest States via ABC, NBC, CBS, FOX and PBS
National OTT Digital Network – 5 Prime Digital Channels – Apple TV, Amazon Fire TV, Samsung SMART TV, Roku TV, Google Chromecast TV
Four (4) YouTube and Vimeo video channels
KidsFishing.US and 26 regional and national educational distribution partners
Free open-source national distribution to every state/federal agency, fishing org, and everyone in R3 angling community
Although other production companies can make fishing media, the Into the Outdoors Education Network is the only one that has earned 16 Emmy Awards from the National Academy of Television Arts & Sciences as the top youth education series, has a multi-million dollar syndicated distribution network to get that media in front of millions, and the only one with two companion educational websites dedicated to getting kids fishing. See for yourself by visiting the Aquatic & Angling Science category to watch all the people, brands and places we've told the stories about while getting kids excited about realistic pathways to fishing. Or, check out KidsFishing.US that excites and helps kids discover fishing.
Whew! So it looks like we're all set to change the future of fishing on behalf of the entire fishing community, right?
Sorry, not yet. Major funders have stepped back for 2020 to see what happens next. So it's clear that the entire fishing industry and related agencies now need to step forward and support this one-of-a-kind program that's already benefiting their collective future.
Here's how it works. When the FAF, Into the Outdoors or any of the partners contacts you, simply choose one of the two ways below to join your peers in this national "angling entertainment & education" initiative;
1). As a Show Content Partner you earn promotional and branding recognition content in the television and online education programs. (Within FCC guidelines, such as the USFS, FWS, WIDNR and others who funded parts or all of their programs.) In short, your fishing-stuff-face-voice-story gets to be a key part of the content of the kids and family fishing adventure that impacts millions.
2). As an In-show Information Partner, you can earn 60 or 90 seconds of an exclusive "fishing show-n-tell" segment designed to help kids and their families be safe and successful anglers… focused on your production, information or topic. We also offer more traditional 30-second messaging opportunities.
By now you're asking, "How can this program actually recruit new anglers and renew others?" Simply watch the trailer above or any of our programming to see how the content uses key elements of R3 studies that can convert engaged viewers into anglers. Also note that each program is converted into recruitment classroom videos with angling webpages on multiple websites along with classroom Family or Friends Angling Lesson Activities where students are encouraged to try "hands-on" angling, and the lessons are actually approved to Common Core and NGSS Educational Standards, then distributed for a minimum of 5 years. In fact, take a moment to explore the Passport to Adventure – Fishing Your US Forests webpage, classroom video, educational content and companion classroom lessons to see how we promote your story in schools across the country while providing an easy plan for kids or parents to take a real family fishing adventure. Click here to see how the companion classroom lesson creates pathways for hands-on angling.
By now you can see how the coalition uses three proven pillars that engage today's generation – television, online videos and peer-learning classroom activities combined with key R3 strategies to create pathways for kids and their families to try fishing. The only important thing missing from this program right now… is you.
So please take a moment to discover your vital role in recruiting our next generation of anglers by contacting us for details on how you can join your peers who have already supported the fishing community for the past two years. Plus, dowload this PDF to discover all you earn when becoming a "Content Partner".
Or better yet, simply email or call Dan at Into the Outdoors Education Network, danb@discovermediaworks.com, or phone 608-512-9596
---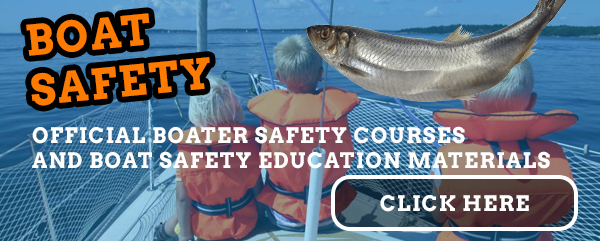 Official Boater Safety Courses
and Boat Safety Education Materials