It's that time of year again. There's a cool breeze in the air, the leaves are changing colors, and there is no shortage of pumpkin spice flavored treats at the supermarkets. We've got some fun fall activities that will get you out of the house and make you fall in love with autumn. You can make the most of fall with these 15 activities that are fun for kids, adults, friends, and family!
Probably one of (if not the most) beloved activities of fall. Spending the day at the pumpkin patch is without a doubt a perfect way to enjoy a fall afternoon. Once you find your ideal pumpkin, bring it home to carve or paint and set it out on your front porch to display.
Fall is arguably the best season for hiking. Hiking is a great way to explore the outdoors, get some exercise, and appreciate all of the fall foliage. Whether you're looking for a challenging adventure or a leisure family-friendly nature walk, there are so many hiking trails to choose from. Don't know where to go? The link below will point you in the right direction.
https://www.americantrails.org/
Explore a National or State Park
Our nation's parks provide great opportunities in fall for all types of outdoor recreational activities, such as hiking, kayaking, fishing, and biking. Many parks offer better wildlife sightings, fewer crowds, and lower pricing during fall. The stunning views are even more breathtaking with the colorful range of foliage that autumn brings. Use the links below to find a park near you!
https://www.nationalparks.org/explore/parks
https://stateparks.org/locate-a-park/
Invite your friends and family, grab a blanket, and cozy up by the fire. Treat everyone to delicious s'mores as you tell classic ghost stories!
Cooler temperatures mean less mosquitos and other nagging insects. In fact, fewer people camp in the fall so you can expect lower rates and fewer crowds! There are so many great camping opportunities across the nation. Find a campground near you to plan your epic camping trip using the link below!
https://www.nps.gov/subjects/camping/campground.htm
What better way to take in all of the beauty of fall than on a hayride. Sit back, relax, and enjoy the beautiful sights that the season of fall brings.
There's no shortage of corn mazes across the country in the fall. Finding your way through a corn maze is a great challenge for the entire family to get involved in.
Head to your nearest orchard for a fun filled day of apple picking! You can even turn the fresh apples that you picked into a delicious apple crisp or pie. 
With lots of food, music, and a variety of activities, there is something for everyone in the family to enjoy. See what fall festivals are near you!
Fall is football season and you know what that means. Head to your local high school for a Friday night lights game. Or head to a collegiate game on a Saturday afternoon. Don't forget to bring some drinks and food to tailgate beforehand.
Have a Picnic in the Park
An autumn picnic in the park is a great way to enjoy the outdoors and the lovely scenery in a peaceful way. It allows you to slow down from your busy life and truly embrace the season of fall.
The cooler temperatures of fall make the ideal conditions for a bike ride. Not only do you get to enjoy the fall scenery, but you will also get some exercise while doing it!
The season of fall provides cool air and warm soil which makes it a great time to plant a garden. Many root vegetables and salad greens grow well in the fall. Use the link below to find out what crops are best grown in your state. https://homegardenreport.com/fall-crop-planting-made-easy-tips-for-all-climates/
There's nothing quite like a pile of freshly raked leaves to jump into. It's a great way to get some fresh air and burn off some energy. 
Fall is one of the best times to see birds as they are migrating south for the winter. Spend some time outside to relax and listen to the sounds of birds above you. Try and identify the types of birds you see.
We challenge you to do as many of these 15 fun activities with your friends and family this fall. Be sure to tag @intotheoutdoorstv on Facebook and Instagram to have your outdoor adventures featured on our page!
Did you know every year nearly 300 million tires are discarded in the U.S. alone? That's about one tire per person and one quarter of those tires end up in landfills.
What are Scrap Tires and Why Have They Become an Issue?
Tires are manufactured from vulcanized rubber with steel rubber woven through. For decades, tires have been dropped off at landfills and many tires have been dumped illegally along ditches and in fields, lakes, and rivers. Scrap tires have become a major problem because they are not biodegradable, meaning they won't decompose by bacteria, so they aren't just going to disappear. Not only are piles of scrap tires ugly, but they can cause health and environmental hazards. Tires contain toxic chemicals which are released into the air, ground, and water. They can even catch fire if left in the sun for long periods of time. When this happens, the tires break down into hazardous compounds including gases, heavy metals, and oil. This oil can seep into the ground and surface water which is a major environmental pollutant.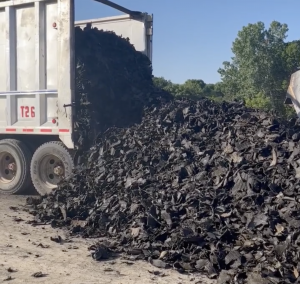 How are Scrap Tires Being Reused?
Because of the environmental concerns that scrap tires pose, states have enacted legislation to manage and decrease the number of waste tires. Many states even offer incentives, rebates, and grants to companies that process and utilize scrap materials, like tires. Scrap tires nowadays are being used in so many innovative ways. End-of-life tires can be shredded to become tire derived aggregate, or TDA, which can be used by engineers for other applications including road repair, construction, landscaping, and in playgrounds. TDA is being used more and more because it has many characteristics that are beneficial for engineering use and is cost effective. Not only is it sustainable, but it is also durable, lightweight, and permeable.
Another way in which scrap tires are being reused is as a fuel source. Tire derived fuel, or TDF, is an alternative way to burning fossil fuels and produces 20% more energy than coal. Not only is TDF more efficient than coal, but it produces lower nitrogen oxide emissions decreasing the output of greenhouse gases. TDF is ideal for cement kilns, steel mills, and power plants because of its high thermal conductivity.
How Can I be a Part of the Solution?
You might be thinking to yourself, how can I help be a part of the solution to these problems? To reduce the number of scrap tires, you can make sure to practice good tire maintenance by keeping the proper air pressure in your tires and rotating them as recommended by the manufacturer. When purchasing new tires, look to buy tires with a longer tread-life. If you have old tires you wish to get rid of, contact your nearest tire recycling center or auto shop about dropping them off. Some cities and counties also host regular tire recycling events. By doing your best to increase the lives of your tires, you are helping to reduce the need for tire disposal.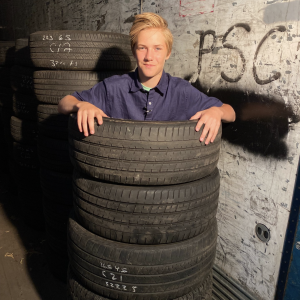 Conclusion
Sometimes environmental issues feel like mountains but with creative ideas and working together we can make a difference! If we can find a sustainable solution for material like tires, what other environmental solutions can we think of?
For more information on the recycling of scrap tires, join the Into The Outdoors Adventure Team as they travel to Michigan, Colorado, and Minnesota to investigate sustainable solutions to scrap tires and learn how different organizations are making a difference.